Hi, friend!
i'm Ninon
A wine professional turned food and wine blogger.
Here at Nim Pairings, you will learn how to cook flavorful vegetarian meals and how to make them extra special with the right glass of wine. 
What resources will I find here?
Nim Pairings is a food and wine blog with a collection of wholehearted, fun-to-make, and easy-to-follow vegetarian and vegan recipes! For each recipe, I provide wine pairing recommendations to help you discover great wines and simplify your meal prep. 
I take care of all the recipe development and wine tasting so you don't have to. Whether it be for your next dinner party or just a quick meal at home, just follow my easy steps. Heads up, a weekly dose of flavors is coming your way! 
Get to know me in a nutshell

NATIONALITY
If you are wondering about the origin of my name, I'm French.
LOCATION
I live in the countryside of Auvergne, a beautiful region in the Center of France, amid the UNESCO World Heritage Site of La Chaîne des Puys (breathtaking landscapes of sleeping volcanoes). This is THE French wine region for volcanic wines!
EDUCATION
What kind of recipes can I find here?
What is your cooking philosophy?
You can do it! Everybody deserves flavourful home-cooked meals made from fresh ingredients (and a glass of wine to go with it!)
Seasonality. Being in the French countryside, I have to live with the seasons. I am lucky enough to be able to grow some of my own veggies and herbs. I also have very generous cherry and plum trees that help me create the best desserts and jams. And one of the things I most enjoy about country life is the opportunity to go wild berry and mushroom picking! I try to cook with the seasons as much as possible.
When cooking and creating recipes and their wine pairings, I always keep in mind that the "personality" of a dish should match the "personality" of a wine. Bold recipes usually call for daring wines, while more discreet and milder flavors are a great match for subtler yet vibrant wines.
What is your approach to wine?
Wine can be intimidating and, in my opinion, often made overly complex by wine experts. This is definitely not the vibe I want to go for here!
For sure, there is a lot to know about wine (and, if you are a wine nerd reading these lines, go wild with the technical stuff, it is very fun!). But this technical knowledge is definitely not required to enjoy wine.
Wine is made to be drunk, enjoyed, and shared with the people you love. With Nim Pairings, my goal is to give you simple and actionable wine tips for your next lunch or dinner party. I believe that by testing different pairings, you'll learn more about your own taste in wine. I aim at making your life easier the next time you open the door of a wine shop and the sommelier starts blabbering about stuff you don't understand. No more wine shop anxiety! 
Get to know me a bit better
As long as I can remember, I have always been passionate about anthropology and learning about other cultures. Through my studies, I got the opportunity to delve deep into these fascinating topics: studying in Scotland (a country that I love!) and working in Namibia (one of the most beautiful countries on earth). I loved Southern Africa so much that, after graduation, I went back for two years, to work in Botswana with very frequent trips to South Africa. I worked at the French embassy, in the field of economic diplomacy and political affairs.
 My passion for wine and gastronomy eventually caught up with me after spending most of my holidays exploring the breathtaking South African vineyards (and tasting A LOT of incredible wines). I decided to go back to university to study wine and start a career in this field. 
I completed an MSc in Wine and Spirits Business at the Kedge Business School in Bordeaux. I learned everything a wine professional should know, from viticulture and enology to the ins and outs of the industry. I also completed the Wine and Spirit Education Trust (WSET) Level 3 Award in Wines.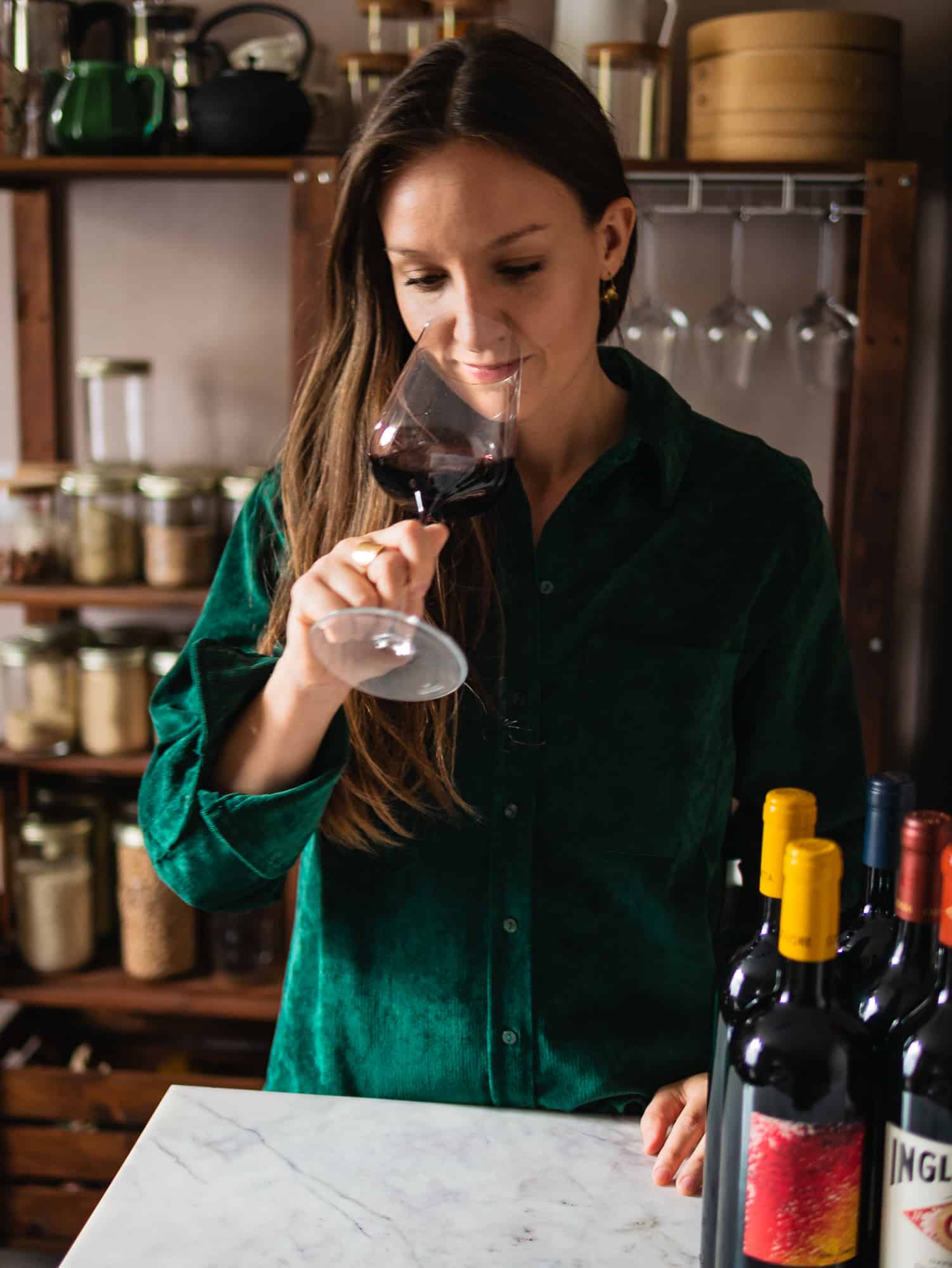 After studying in Bordeaux, I went on to work in different wine regions including Champagne and Burgundy. I have occupied various roles from Wine Markets Analyst to Wine Advisor and Educator, hosting tastings for enthusiasts from all over the world. Super fun!
But what about food, you might wonder?!
Well, food has always been a big thing in my life. I learnt most of the traditional French cooking recipes and technics growing-up, in a family of food lovers. 
And this journey has never stopped! In all of my travels abroad, whether in Europe, Southern Africa or more recently South Asia, I spent hours discovering new culinary traditions, interesting ingredients or new flavours, and cooking techniques.
I am vegetarian and vegetal cuisine has led me to a path of incredible discoveries, from how to char-grill veggies on an open-flame barbecue (braai) in Namibia, to frying spices in India and learning the art of seasoning with fresh herbs while cooking Mediterranean recipes.
However, by delving deep into this colourful world, I quickly became aware of the lack of information available when it comes to vegetarian food and wine pairings. Still to this day, I often struggle to find good wine-pairing advice to go along with delicious vegetarian recipes.
Back when I was working as a Wine Advisor and Educator in Burgundy, I started to dig deeper into the topic of vegetarian food and wine pairing. During my spare time, I spent hours cooking and tasting wine pairings to match with my favourite recipes. I wanted to provide recommendations for everyone and make sure to always include tasty vegetarian pairing options. I shared my findings with my guests, and they loved it!
This got me thinking. Undoubtedly, I wasn't the only person on this planet struggling to find relevant wine-pairing advice in sync with my vegetarian lifestyle..!
And voilà! Nim Pairings was born. I decided to create a cosy space for food and wine lovers, where I share wholehearted vegetarian recipes and provide wine pairing recommendations. A place to simplify your life and where you might make great wine discoveries.
I am really happy you are here. I'll see you in the kitchen, or in the cellar!
Ninon