This post may contain affiliate links of products that I use and know. I will earn a small commission if you purchase through those links, at no extra cost to you. Thank you for your support!
The creamiest, easy, and fairly quicky Chanterelle Mushrooms Pasta. The complex fragrance of Chanterelle mushrooms calls for an equally complex yet delicate grape variety. Cue Pinot Noir! The delicacy and elegance of this grape variety is a perfect match for these Chanterelle Mushrooms Pasta. A bomb combo for your tastebuds!
A few details about the recipe
Chanterelles are an ultimate delicacy when it comes to mushrooms. In this recipe, I added directions for both fresh and frozen Chanterelles. These delicious mushrooms are used in two textures: crispy and mixed into a rich creamy sauce that coats long shape pasta beautifully.
Pasta: I used Linguine, because I love them, but any long shape pasta will work wonders! Tagliatelle, Fettucine, Tagliolini, you name it!
White wine for the sauce: make sure to use a dry white wine, with no residual sugar. A dry Pinot Grigio, Sauvignon Blanc or Chardonnay will be perfect.
This recipe is great when having people over as the sauce can be made in advance and stored in the fridge. You just have to reheat it while the pasta is cooking!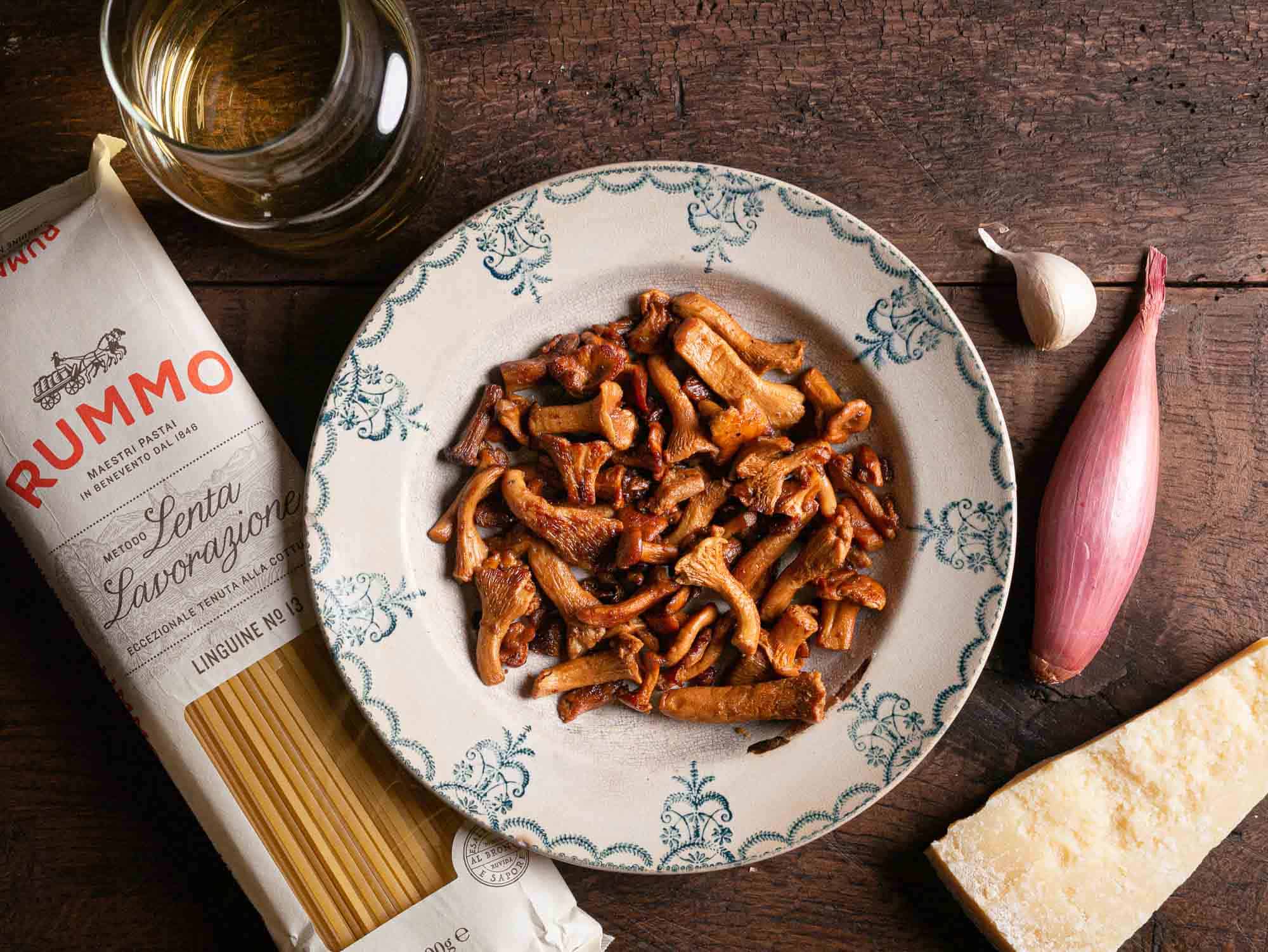 🍷Wine Pairing for Chanterelle Mushrooms Pasta
The Match
Pinot Noir!
Lightly tannic and remarkably supple in texture, Pinot Noir usually displays complex aromas of red berries, violet, dried flowers and an earthiness that will complement the delicate aromas and flavours of the girolles without being overpowering.
WINE APPELLATION SUGGESTIONS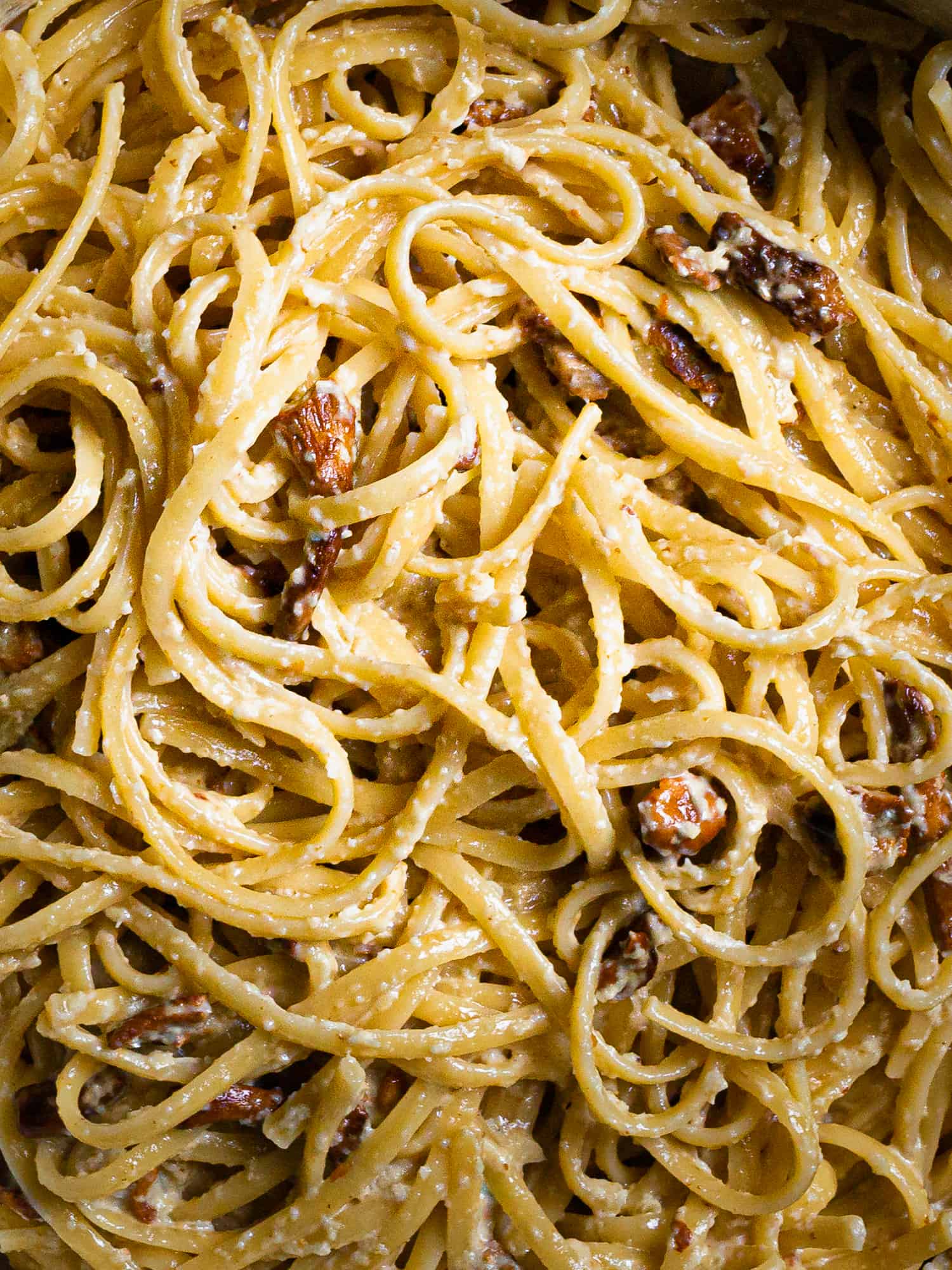 FREQUENTLY ASKED QUESTIONS
How long does this keep?
These Chanterelle Mushrooms Linguine can be kept for up to 3 days in the fridge in an airtight container.
Can this be made in advance?
Sure! Make the sauce ahead of time and just reheat it while the pasta is cooking.
I do not have Linguine pasta on hand. What are the substitute?
Any long shape pasta will work. Go crazy with Spaghetti or Fettucine!
Other delicious French Inspired recipes
Recipe
Print
The Creamiest Chanterelle Mushrooms Pasta
Total Time:

40 minutes

Yield:

4

1

x
4 cups (300 g) of fresh or frozen Chanterelle mushrooms
2 tablespoons (25 ml) of extra-virgin olive oil
1 tablespoon (15 g) of butter
2 medium shallots, thinly minced
1 clove of garlic, crushed
½ cup (130 ml) of dry white wine
½ cup (130 ml) of vegetable broth
2 cups (200 ml) of heavy cream
⅛ teaspoon of white pepper
½ teaspoon of sea salt
40 ounces (500 g) of Linguine pasta
flat leaves parsley, chopped, to sprinkle on top (optional)
Instructions
If your are using fresh Chanterelles:
Prepare the Chanterelle mushrooms by brushing the dirt off with a small brush.
Set aside.
If you are using frozen Chanterelles:
In a pot, bring slightly salted water to a boil.
Cook the frozen Chanterelle mushrooms in boiling water for 30 seconds and drain them.
Set aside.
Make the sauce
In a sauté pan, heat 2 tbsp of olive oil and 1 tbsp of butter over high flame. Add the Chanterelles and sauté with a pinch of salt until they become slightly golden. Remove half of the Chanterelles from the sauté pan and set aside.
Add the shallots and garlic to the rest of the Chanterelles, and sauté until the shallots and garlic become translucent.
Then, add the white wine and stir for 2 minutes, until the alcohol evaporates.
Add the vegetable broth and stir.
Let the preparation simmer for 10 minutes then add the heavy cream and simmer for another 5 minutes. Season to taste with salt and white pepper.
Using an immersion blender, blend the sauce until creamy and foamy on top. Set aside with a lid on to keep it warm.
Cook the Linguine al dente according to the package instructions and drain.
Immediately add the cooked pasta and the remaining half of the sautéed Chanterelles to the skillet and stir using kitchen tongs until everything is well combined.
Plate the pasta into a nest shape and sprinkle grated Parmigiano Regiano DOC and chopped fresh parsley.
Serve immediately and enjoy with a glass of Pinot Noir!
Favorite Equipment
Nim Keys
The technic of putting frozen Chanterelles into boiling water (call blanching) will remove the bitterness that can sometimes appear when freezing raw mushrooms.
 Mixing some Chanterelles in the sauce amplifies their delicate flavor. Try not to skip this part!
Author:

Ninon

Prep Time:

20

Cook Time:

20

Category:

Main Course

Cuisine:

French

Diet:

Vegetarian
Keywords: creamy mushrooms pasta, chanterelle mushrooms