This post may contain affiliate links of products that I use and know. I will earn a small commission if you purchase through those links, at no extra cost to you. Thank you for your support!
Delicious and hearty potato herb pie. 100% French. 100% decandent. Simple to make and bursting with flavors! Tender thinly sliced potatoes are coated with plenty of fresh herbs and cream and hugged by a golden buttery puff pastry. A perfect match for unoaked Chardonnay wines, as their tanginess will cut through the cream and will complement the herbs perfectly. A must-try pairing!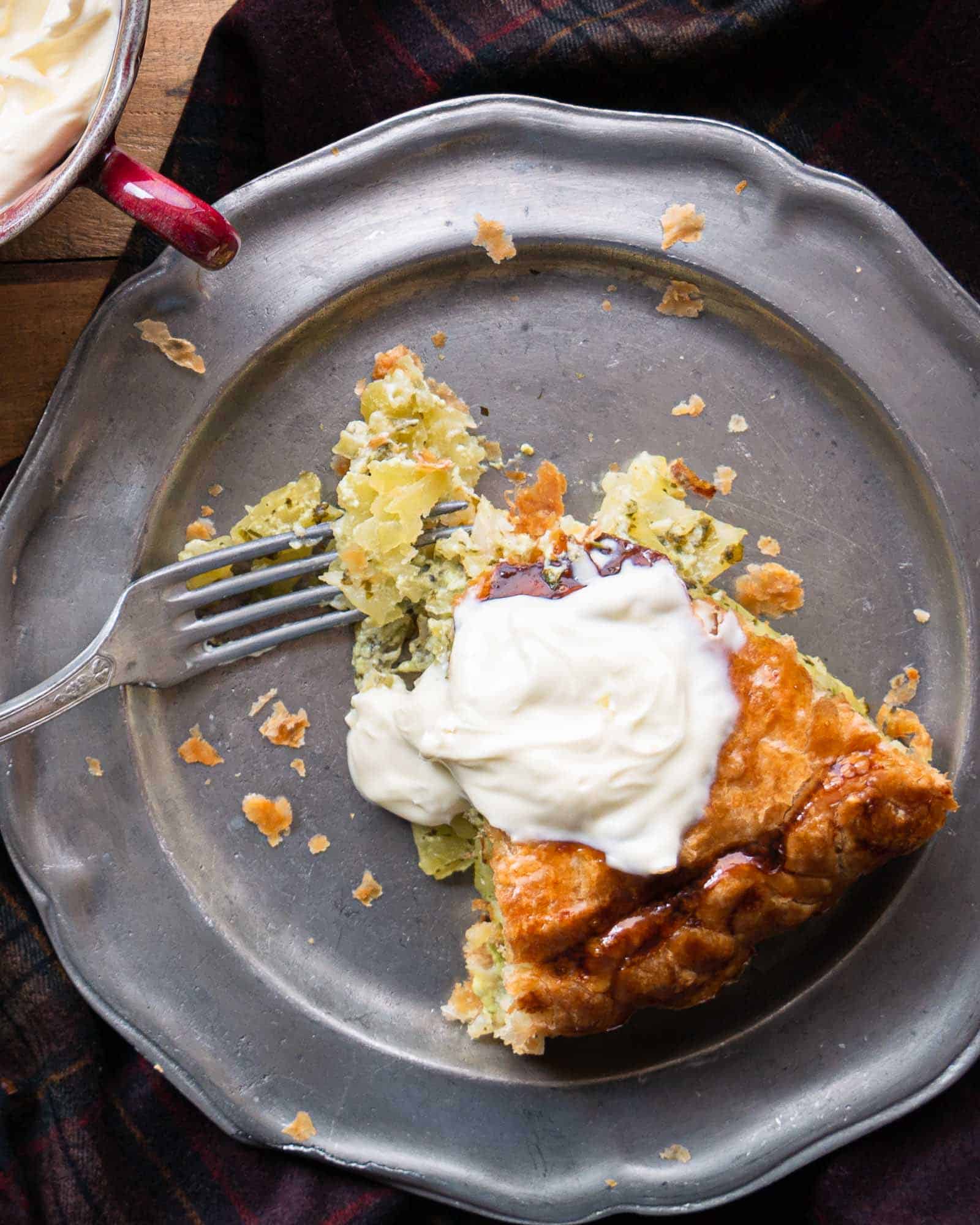 A few details about the recipe
For those of you who don't already know, I am French. I was born in Auvergne, a region with a pretty strong identity.
Auvergne is a beautiful region located in the south-center of France. It is well known for its epic mountain and volcano landscapes. Let's just say it is pretty hill-y. Potato dishes are at the core of Auvergne culinary tradition, as potatoes were pretty easy to cultivate in this mountain climate.
Potato Herb Pie is a staple of Auvergne cuisine. If you've ever been invited to an Auvergne house, chances are that a golden potato pie was waiting for you in the oven. Family recipes are usually kept secret and passed on from generation to generation… Each family strongly believing their recipe to be the "real one"! One thing is sure, this golden and generous dish will bring the conviviality of the Auvergne region to you, wherever you are on the planet.
Serving tip : in Auvergne, people love removing the top of their Potato Herb Pie slice to dollop a generous spoonful of thick heavy cream… and then put the top back on! No harm, no foul! "Ni vu ni connu "!
🥂Wine Pairing for Potato Herb Pie
The Match
Chardonnay!
Chardonnay being the most grown white grape variety in Auvergne, it was THE designated accomplice to pair with this Potato Herb Pie.
Auvergne Chardonnay is pretty unique because it is planted on volcanic soil. As a result, the wines are usually vibrant with freshness and display a delightful smokiness. A must-try if you can get your hands on it!
WINE APPELLATION SUGGESTIONS
FREQUENTLY ASKED QUESTIONS
Can I make them in advance?
For sure! You can made the pie the day before up to the the pastry lining. The next day, brush with the egg wash and bake as instructed in the recipe.
How long does this keep?
You can keep the Potato Herb Pie up to 3 days in the fridge in an airtight container. Reheat in a preheated oven at 390°F (200°C) for 10-15 minutes or until done.
Other delicious French inspired recipes
Recipe
Print
French Potato Herb Pie
Total Time:

1 hour 20 minutes

Yield:

6

1

x
These proportions are for a 11 inches (28 cm) tart pan
35.3 ounces (1 kg) of medium size potatoes
2 medium size shallots, minced
1 medium cloves of garlic, crushed
1 cup (200 ml) of heavy cream
½ cup (15 g) of freshly chopped parsley
½ cup (15 g) of freshly chopped chives
1 teaspoon of sea salt
⅛ teaspoon of green pepper
2 sheets of all-butter puff pastry
1 egg yolk + 1 teaspoon of water for the egg wash
To serve : thick double cream
Instructions
Preheat your oven at 350°F (180°C).
Peel the potatoes, wash them under cold water and pat them dry with a kitchen cloth.
With a mandolin or a knife, slice the potatoes into 1/8 inch (3 mm) thick slices.
In a large mixing bowl, add the sliced potatoes, minced shallots, crushed garlic, chopped parsley, chopped chive, heavy cream, salt and pepper.
Using your hands (no better tool than that!), mix everything until all the potatoes are well coated.
Line one sheet of puff pastry on an 11 inches (3 mm) parchment lined tart pan.
Transfer the sliced potatoes into the pastry case and spread evenly. Do not forget to transfer all the cream too.  The potatoes will absorb the cream while cooking and become moist and tender.
Add the other sheet of puff pastry on top and seal the 2 sheets with your fingers following the edge of the tin. The easiest way is to pinch and roll the two sheets of puff pastry together.
With a small pairing knife, cut a small hole at the center of the top puff pastry. It will act as a chimney and let the steam out during baking. 
Whisk the egg yolk with one teaspoon of water and brush the the egg wash over the pastry crust.
Bake in the oven for 50 minutes or until golden and crispy.
Serve piping hot with some thick double cream and a salad on the side.
Enjoy with a glass of your favorite Chardonnay!
Nim Keys
The chimney plays an important role in letting the steam out and ensuring the potatoes cook nicely and evenly. Softness guaranteed!

 

The egg wash glazing is a traditional pastry technique widely used in French cooking. It's mostly used with puff pastry and ensures the crust is golden and shiny! This step can be skipped but know that the crust will be paler without the egg wash.
Author:

Ninon

Prep Time:

30

Cook Time:

50

Category:

Main Course

Method:

Oven Baked

Cuisine:

French

Diet:

Vegetarian
Keywords: potato pie, French potato herb pie