This post may contain affiliate links of products that I use and know. I will earn a small commission if you purchase through those links, at no extra cost to you. Thank you for your support!
A crispy puff pastry crust filled with a light blue cheese soufflé filling? Yes please! This delicious savory tart comes from my home region of Auvergne and is best paired with a Chenin Blanc wine. An off-dry Savennières or Montlouis-sur-Loire from the Loire Valley will be a hit!
A few details about the recipe
This recipe comes directly from my home region, Auvergne! This region, located in the center of France, in the midst of volcanic mountains, is famous for its renowned cheese. One of them Bleu d'Auvergne, a delicious blue cheese with a lot of depth and character.

In this recipe, Bleu d'Auvergne is added to a Soufflé-style filling surrounded by a light and airy all-butter puff pastry crust. This is one of my favourite fall comfort food, and an easy one to make no less!
As Bleu d'Auvergne might not be available where you live, you can definitely replace it by any Bleu Cheese that you love such as Stilton, Gorgonzola, Roquefort, Fourme d'Ambert, Danablu and so much more!
🍷Wine Pairing for Blue Cheese Soufflé Tart
The Match
Chenin Blanc !
I recommend Chenin Blanc to pair with the Auvergne Bleu Cheese Pie. Chenin Blanc is a grape variety that is very versatile and can range from bone dry to sweet, and can be still or sparkling. With the Blue Cheese Soufflé Tart, I recommend an off-dry Chenin wine.
Chenin wines usually display aromas of apple and honey, with steely smoky character, creating a sensation of sweetness, even in their dry form. These voluptuous characteristics are a great match for bold Blue Cheeses, like Bleu d'Auvergne.
WINE APPELLATION SUGGESTIONS
FREQUENTLY ASKED QUESTIONS
How long does this keep?
This Blue Cheese Soufflé Tart can be kept for up to 3 days in the fridge in an airtight container.
Can I make it in advance?
Yes, you can make the the recipe ahead of time up until assembling the tart. Store the Bleu cheese filling it in the fridge in an airtight container. I recommend assembling and baking at the last minute as the Bleu cheese filling will act as a soufflé and is better served right out of the oven.
Other delicious French inspired recipes
Recipe
Print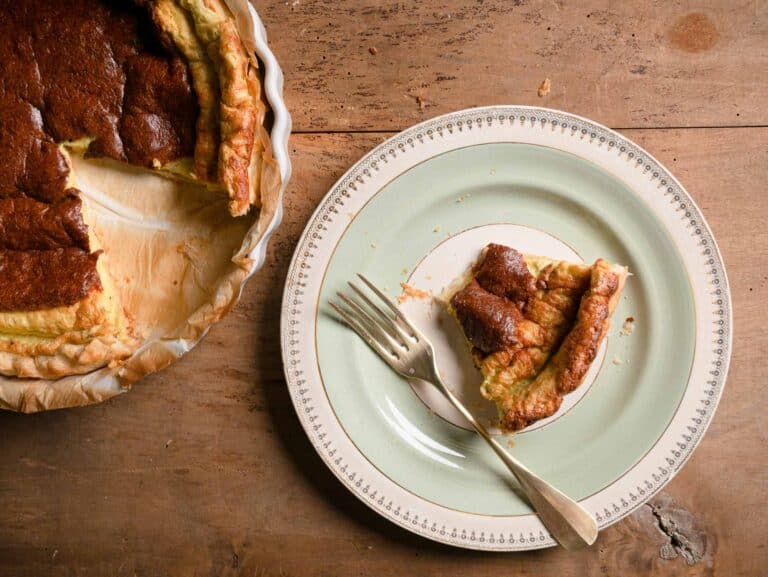 Blue Cheese Soufflé Tart
Total Time:

50 minutes

Yield:

6

1

x
¼ cup (45 g) of butter
¼ cup (40 g) of all-purpose flour
1 cup (250 ml) of full-fat milk
⅛ teaspoon of pepper
¾ cup (150 g) of Bleu d'Auvergne (or any good quality Blue Cheese), cut into cubes
4 free-range eggs
1 sheet of all-butter puff pastry
Instructions
This recipe is meant for a 24 cm (9.5 inches) tart pan.
Preheat the oven at 390°F (200°C).
In a pot, melt the butter over medium-high heat.
When the butter is bubbling nicely, add the flour all at once. Using a whisk, stir vigorously.
Lower the heat to medium intensity.
Add the milk and whisk continuously until the sauce has thickened, about 5 minutes.
Remove from the stove. Add the pepper, the cubes of blue cheese and stir well until the cheese melts.
Let it cool for 5 minutes.
In the meantime, crack the eggs and separate the whites from the yolks.
Add the egg yolks to the bleu cheese mixture and whisk until combined.
Beat the egg whites until they form peaks.
With a rubber spatula, gently fold the egg whites into the bleu cheese mixture.
In a 24 cm (9.5 inches) parchment lined tart pan, line the all-butter puff pastry.
Pour the bleu cheese mixture in and fold the puff pastry edges.
Bake for 30 minutes until golden and risen (the filling will rise similar to a soufflé).
Enjoy warm with a glass of chilled off-dry Chenin wine!
Nim Keys
I used Bleu d'Auvergne in this recipe, as I live in the incredible region of Auvergne. But feel free to use any good quality Blue Cheese : Stilton, or even creamy Gorgonzola!
Be gentle while adding the egg whites into the batter. Fold them using a circular motion up and down. The secret is not to overwork the batter to keep the Soufflé Blue Cheese filling extra light and fluffy!
Author:

Ninon

Prep Time:

20

Cook Time:

30

Category:

Main Course

Method:

Oven Baked

Cuisine:

French

Diet:

Vegetarian
Keywords: Bleu cheese, soufflé, savory tart