This post may contain affiliate links of products that I use and know. I will earn a small commission if you purchase through those links, at no extra cost to you. Thank you for your support!
Truffle Tagliolini is an easy recipe to make, yet decadent and festive. If you are lucky enough to get your hands on fresh truffles, great! But, if for budget or availability reasons you cannot get them, preserved truffles work wonders too. More affordable than fresh truffles, high quality preserved truffles are full of flavours and usually stored in extra-virgin olive. I really love to pair Truffle Tagliolini with either red Italian or white Burgundy wines. Your pick!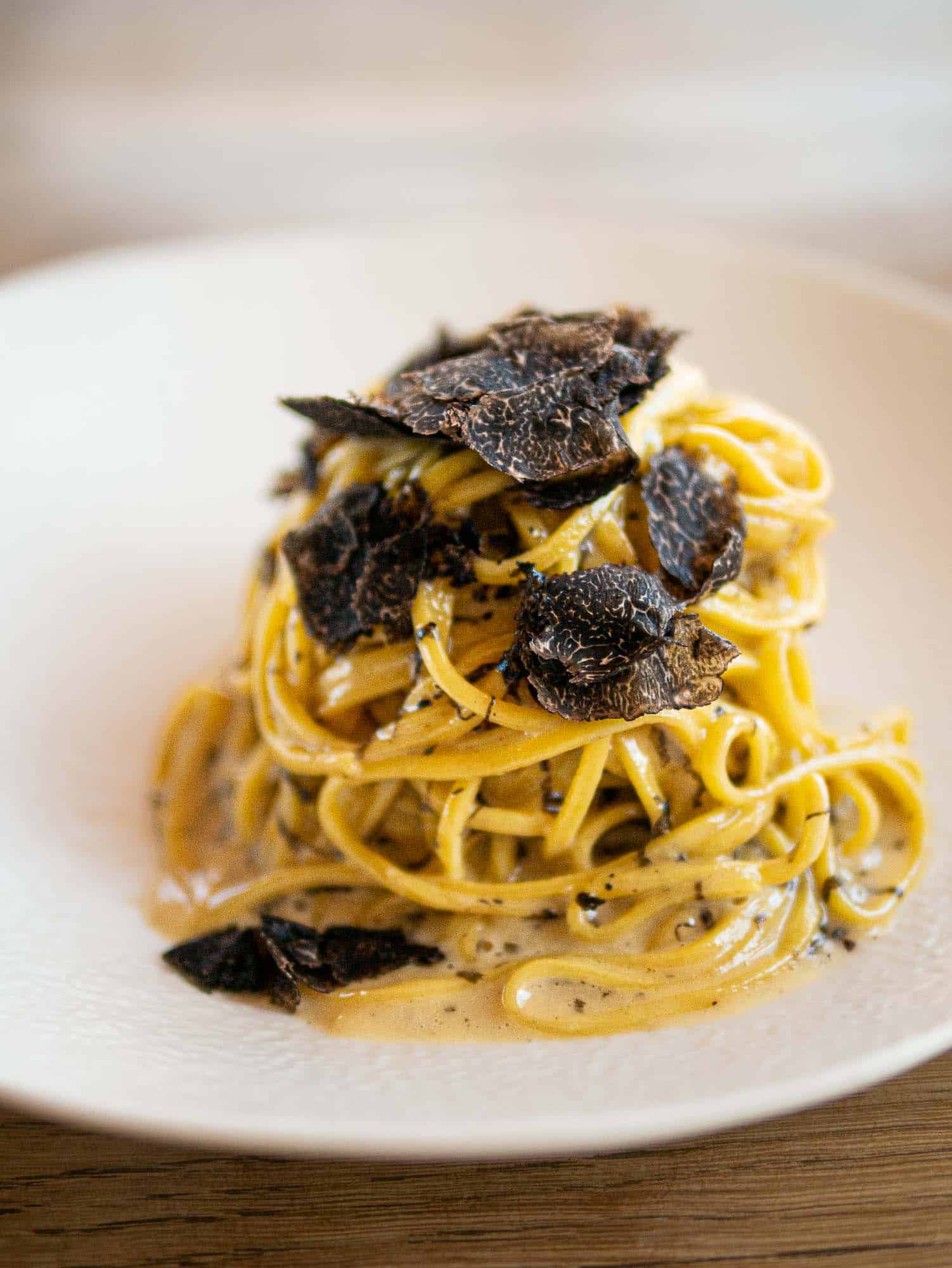 A few details about the recipe
Truffles: you can either use fresh or preserved truffles in this recipe. Fresh truffles being very expensive, I mostly go with the preserved version. With fresh truffles, half of it is grated with a Microplane while the other half is shaved on top on the pasta at the last minute. Preserved truffles just have to be minced. Make sure to add the oil from the preserved jar! It is full of truffle flavor and shouldn't go to waste.
Egg Tagliolini pasta: if you can get your hands on the fresh egg Tagliolini pasta, this is the best. Good quality dried egg Tagliolini also works well.
Tagliolini cooking water is super important to get the creamiest sauce. I recommend keeping 2 cups of cooking water before draining the pasta. While the recipe asks for 1 cup of cooking water in the sauce, it is always better to have some extra cooking water on hand. It will allow you to adjust the consistency of the sauce to your liking.
What to serve this with?
Truffle Tagliolini is a treat in itself! But if you really want to indulge in a hearty meal, I recommend serving French Poached Eggs in Cheese Sauce as a starter followed by this Truffle Tagliolini. A great menu for small or big celebrations!
🍷Wine Pairing for Truffle Tagliolini
The Match
Nebbiolo!
A creamy Truffle dish such as our Truffle Taglioni are versatile to pair. They can be a great match for both red and white wines.
Truffles are commonly found in France and Italy. Hence our pairing suggestions will come from both these countries! In Italy truffles are a match made in heaven with Sangiovese and Nebbiolo (the star red grape varieties from Tuscany and Piemonte). In France, truffles are known to pair amazingly well with full bodied and aged Chardonnay based wines.
WINE APPELLATION SUGGESTIONS
Red wine
Barolo (Piemonte, Italy)
Brunello di Montalcino (Tuscany, Italy)
White wine
Chassagne-Montrachet (Burgundy, France)
Meursault (Burgundy, France)
Other delicious Italian inspired recipes
Recipe
Print
Truffle Tagliolini
Total Time:

50 minutes

Yield:

4

1

x
½ cup (110 g) of unsalted butter
1 medium clove of garlic, peeled and lightly smashed
1 ounces (30 g) of truffles (either fresh or good quality preserved truffles)
17 ounces (500 g) of fresh egg tagliolini
1 cup (235 ml) of the Tagliolini cooking water
1 cup (80 g) of Grana Padano or Parmesan cheese, grated
1/8 teaspoon of white pepper, ground
1/2 teaspoon of sea salt
Instructions
In a large pot, bring well-salted water to a boil.
Meanwhile, in a sauté pan, melt the butter over medium-low heat and add the peeled and lightly smashed clove of garlic. Do not crush or mince the garlic, the clove is only used to delicately infuse in the butter and should not be overpowering.
Cook the butter until it becomes foamy and slightly golden.
Add the truffles to the butter:
– If using fresh truffles: grate half of the truffles in the melted butter and add one tablespoon of cooking water to make the sauce creamy.
– If using preserved truffles: mince all the truffles and add them to the melted butter. Add one tablespoon of cooking water to make the sauce creamy.
Stir and cook for one minute. Then remove the clove of garlic.
Cook the pasta according to the package instruction until al dente. Reserve two cups of cooking water.
Drain the pasta and add them straight to the sauce.
Add the grated Parmesan to the pasta, along with one cup of cooking water.
Using a pair of tongs, stir well until all the pasta are well coated with the sauce.
Season with sea salt and freshly cracked white pepper, to taste.
Plate the Tagliolini into a nest shape. If using fresh truffles, shave the remaining half overtop of the Tagliolini.
Serve immediately and enjoy with a glass of Barolo, Barbaresco or Langhe Nebbiolo!
Nim Keys
In this recipe, the cooking water plays an important part. It makes the butter and truffle sauce extra creamy. Make sure your reserve enough cooking water to add as much as you need while making the sauce!
If using truffles preserved in oil, mince the truffle slices, and add them to the butter. Do not forget to use the preserved oil as well! It's super flavorful and will add extra depth to the dish. 
To plate the Tagliolini in a nest shape, use a fork and a ladle. Using the fork, place some Tagliolini in a ladle and swirl the pasta around. Then gently place the pasta nest onto a plate. I''s done!
Author:

Ninon

Prep Time:

20

Cook Time:

30

Category:

Main Course

Cuisine:

Italian

Diet:

Vegetarian
Keywords: truffle pasta, truffle butter