This post may contain affiliate links of products that I use and know. I will earn a small commission if you purchase through those links, at no extra cost to you. Thank you for your support!
Parmigiana Bianca is a traditional Italian dish created to make fresh and delicious zucchini shine! Roasted zucchini ribbons, spring onion béchamel, delicious cheese and fresh basil create the best combination in this dish. And, of course, I have created this recipe with a wine in mind. Fiano or a lightly oaked Chardonnay should bring this dish to another level of tastiness.
A few details about the recipe
This non-traditional Parmigiana recipe was inspired by a trip to Puglia, a beautiful region of Southern Italy (the "stiletto" region!)
Well, to be fair, it was mostly inspired by the amazing local cheese called Caciocavallo Silano. Its name refers to the technique of hanging the cheeses in pairs, tied with a string, to age across a beam. This technique gives Caciocavallo Silano its singular shape similar to the shape of Scamorza (except much bigger!). Made from raw cow's milk, this cheese is a real delicacy! Trust me when we say that CaciocavalloSilano brings this Parmigiana to another level! Feel free to use Provolone cheese (similar in taste) if Caciocavallo is not accessible where you live.

In this Parmigiana, roasted sliced Zucchini are layered between a creamy spring onion béchamel, fresh basil leaves and lots of Caciocavallo cheese. A burst of flavors for any summer lunch or dinner!
What to serve this with?
For a great summer dinner with friends and family I recommend serving Panzanella (Toscan Summer Salad) as a starter, followed by this Cheesy Zucchini and Basil Parmigiana.
🍷Wine Pairing for Cheesy Zucchini Basil Parmigiana
The Match
Fiano or Chardonnay!
Fiano is a deliciously aromatic grape variety from Southern Italy. Rich in texture, the wines usually display aromas of pears, hazelnut, lemon and orange peel and pine sap. An hidden gem worth discovering!
Another great ally to thus Parmigiana is Chardonnay, the queen of white grape varieties. Try to choose your Chardonnay wine on the creamier side of the spectrum, with lemony and pastry-like aromas.
WINE APPELLATION SUGGESTIONS
Fiano di Avellino (Campania, Italy)
White Savigny-lès-Beaune (Burgundy, France)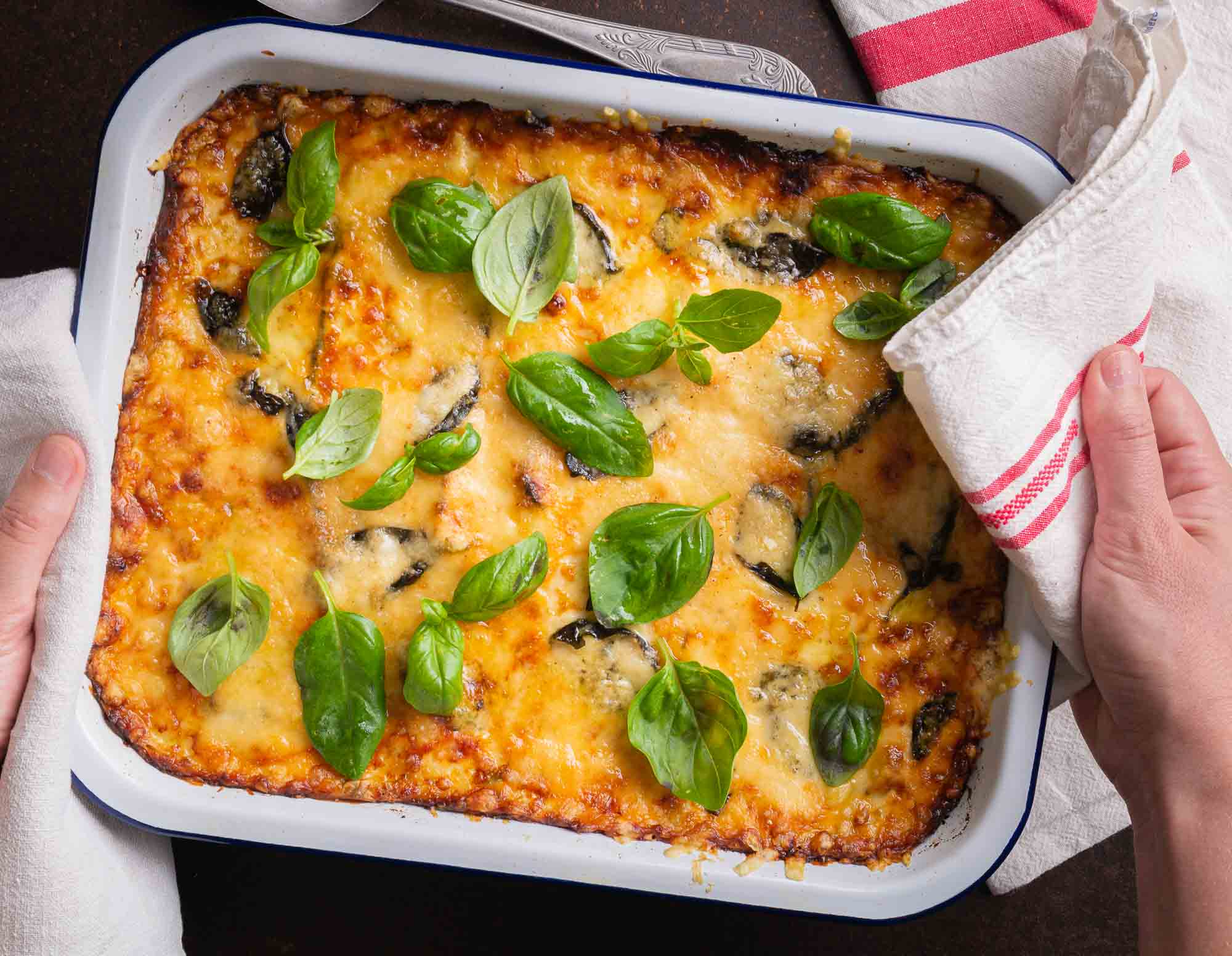 FREQUENTLY ASKED QUESTIONS
How long does this keep?
The Parmigiana can be kept for up to 3 days in the fridge in an airtight container.
Can I freeze this?
Yes, it can be frozen and stored for up to one month in the freezer.
Other delicious Italian inspired recipes
Recipe
Print
Cheesy Zucchini Basil Parmigiana
Total Time:

1 hour 25 minutes

Yield:

6

1

x
For the béchamel sauce
1 spring onion, thinly chopped
4 cups (1 liter) of milk
⅓ cup (70 g) of butter
½ cup (70 g) of all-purpose flour
¼ teaspoon (2 g) of sea salt
⅛ teaspoon of green pepper
For the layers
2 large organic zucchini (or 3 medium)
5 and ½ cups (470 g) of Caciocavallo Silano cheese, grated (alternatively, use Provolone cheese)
1 cup (100 g) of Grana Padano cheese, grated
2 cups (40 g) of fresh basil leaves
4 tablespoons (40 ml) of extra-virgin olive oil
¼  teaspoon of sea salt
Instructions
Make the béchamel sauce
In a saucepan, melt the butter over medium heat.
When the butter is bubbling nicely, add the thinly chopped spring onion and cook until translucent.
Then, add the flour all at once and stir energetically with a whisk until well incorporated, about 2 minutes.
Add 1/3 of the milk and stir.
Add another 1/3 of the milk and keep stirring.
Add the rest of the milk and stir continuously for about 10 minutes until the sauce has thickened.
Add ¼ teaspoon of sea salt and a pinch of green pepper to taste.
Set aside while roasting the zucchini.
Roast the zucchini slices
Preheat the oven at 480°F (250°C).
Wash and cut the edges of the zucchini.
Using a mandolin or a sharp long knife, slice the zucchini lengthwise, into 0,2 inches (0,5cm) thick slices.
Line the zucchini slices onto a parchment lined oven tray.
Brush each slice of zucchini with extra-virgin olive oil (or massage them with your fingers if you don't have a baking brush).
Roast them in the oven until golden (about 15 minutes), then set them aside.
Repeat the process as you will need to make several batches to roast all the zucchini slices.
Assemble the Parmigiana
Turn the temperature of your oven down to 350°F (180°C ).
Grease a  10 x 13 inches (35 x 26cm) baking dish with extra-virgin olive oil.
Layer slices of roasted zucchini to cover the entire bottom of the dish.
Layer the creamy spring onion béchamel on top.
Add a generous layer of grated Caciocavallo Silano cheese.
Add a generous handful of fresh basil leaves.
Repeat the operation one time.
Finish by sprinkling all the grated Grana Padano cheese on top.
Cook in the oven for 40 minutes until golden and super fragrant.
Sprinkle a generous handful of fresh basil leaves just before serving. Enjoy immediately with a glass of chilled Fiano di Avellino!
Nim Keys
Adding flour all at once to melted butter is called a "roux". It is a classic French cuisine technique used to thicken a sauce. Make sure the butter and flour mixture cooks for 2 minutes and bubbles nicely before adding the milk. It will make your béchamel deeper in taste and extra creamy!
Author:

Ninon

Prep Time:

45

Cook Time:

40

Category:

Main Course

Method:

Oven Baked

Cuisine:

Italian

Diet:

Vegetarian
Keywords: zucchini parmigiana, parmigiana bianca, basil