This post may contain affiliate links of products that I use and know. I will earn a small commission if you purchase through those links, at no extra cost to you. Thank you for your support!
Tomato bread soup (locally called Papa Al Pomodoro) is a staple of Tuscan cuisine. As always with Tuscan dishes, stale bread is used (no waste allowed!) and creates the creamiest texture for the soup. In this non-traditional version, I added fresh cherry tomatoes, fresh basil and oregano sprinkled on top for an extra burst of flavours. This aromatic vegan summer soup is perfect to pair with a vibrant medium-bodied red such as Chianti Classico.
A few details about the main ingredients
Tomato passata is a tomato purée made of uncooked sieved tomatoes. The flavour is bold and very close to freshly crushed tomatoes. If passata is not available where you live, you can alternatively use good quality canned tomato pulp (I like the Mutti one).

Stale bread : I used stale sourdough bread for the slight tanginess and complexity of flavors. But any bakery style bread would do.
Cherry tomatoes, brings freshness and sweetness to the dish. i love how their texture compliment the tomato soup.

Fresh herbs : I used fresh basil and fresh oregano that are a great match with tomato flavor.
What to serve this with?
For a light lunch, this soup can be served alongside Panzanella (Toscan Summer Salad). If you are on a mood for a more decadent meal, it can be served as a starter followed by Gnudi (Spinach and Ricotta Dumplings).
🍷Wine Pairing for Bread and Tomato Soup
The Match
Chianti!
Medium-bodied red wine from Tuscany, Chianti is a great pairing for tomato based dishes. The vibrant acidity, the fruity and earthy flavors of Chianti will prove to be a great ally to the aromatic and natural acidity of the Bread and Tomato Soup with Cherry Tomatoes and Fresh Herbs.
WINE APPELLATION SUGGESTIONS
Chianti Classico (Tuscany, Italy)
I recommend checking the wines from Panzano in Chianti, a sub-region within the appellation Chianti. An amazing place with amazing wines!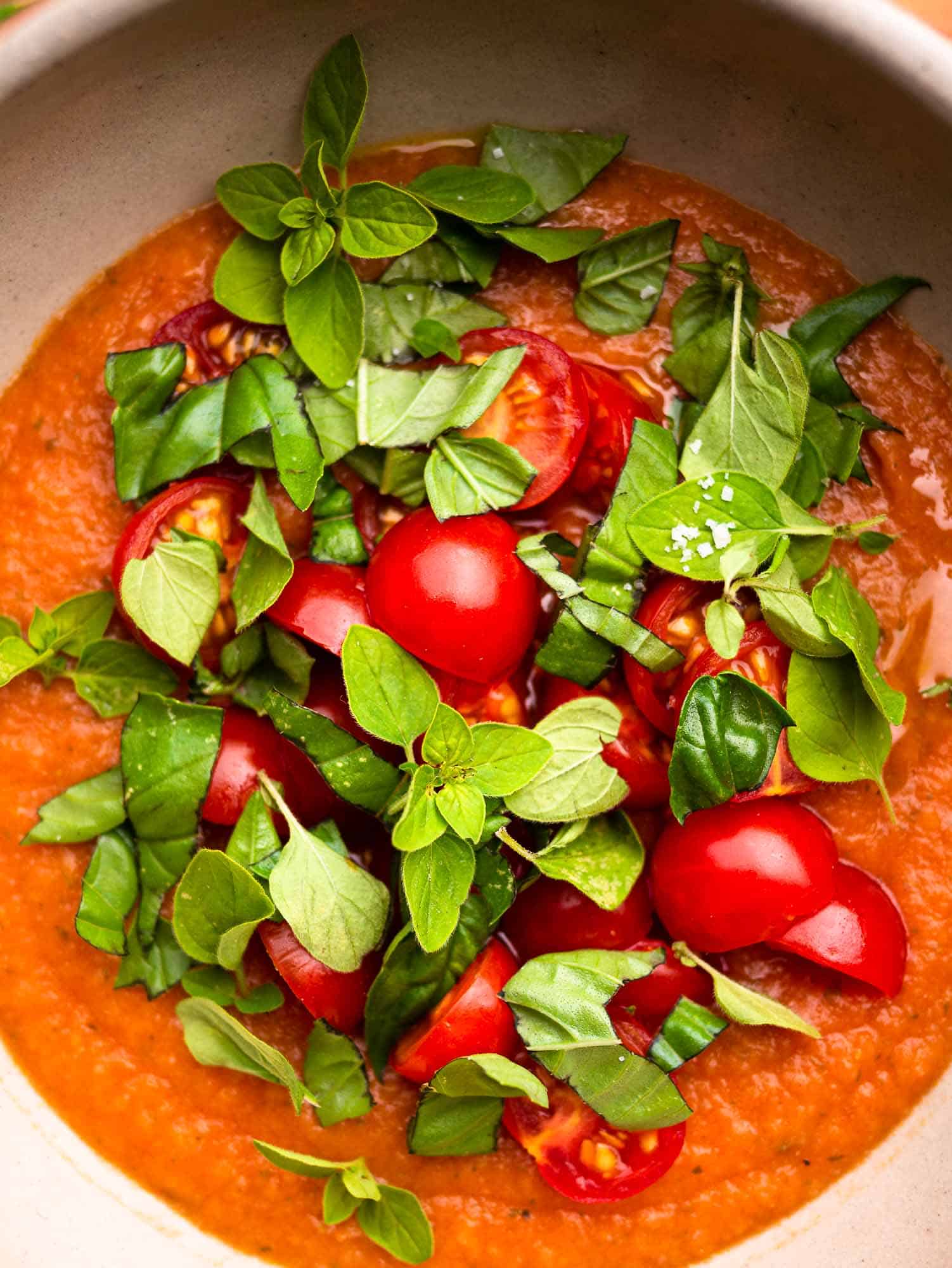 FREQUENTLY ASKED QUESTIONS
I don't have stale bread, can I use fresh bread instead?
If you do not have stale bread, I still recommend following the recipe instructions. "Dehydrating" fresh bread in the oven is important for the texture of the soup. It allows the tomato passata to soak gently and gives a creamy texture to the soup.
I do not have fresh oregano, what can I substitute it with?
Marjoram is a great substitute for oregano. Dried oregano works too. I would use 2 teaspoons of dried oregano.
How long does this keep?
This Tuscan Bread and Tomato Soup can be kept for up to 3 days in the fridge in an airtight container.
Other delicious Italian inspired recipes
Recipe
Print
Tuscan Bread Tomato Soup with Cherry Tomatoes and Fresh Herbs
Total Time:

40 minutes

Yield:

4

1

x
3 and ½ cups (800 g) of homemade or store-bought tomato passata (alternatively you can use tomato pulp)
4 slices of stale bread, about 0,4 inch (1 cm) thick (or toasted bread if you don't have stale bread on hand)
1 red onion, roughly sliced
1 clove of garlic, crushed
4 tablespoons (9 g) of fresh oregano
1 cup (20 g) of fresh basil
5 tablespoons (75 ml) of extra-virgin olive oil
1 cup (150 g) of cherry tomatoes, cut in half
sea salt, to sprinkle on top
Instructions
If you don't have stale bread, toast fresh bread
Preheat the oven at 300°F (150°C).
Slice the bread into 0,4 inch (1 cm) thick slices and place them on a baking tray lined with parchment paper.
Bake for 15 minutes. The bread should not change color and remain moist on the inside and crispy on the outside.
Set aside.
Otherwise, continue with the recipe
In a large pot, heat 5 tablespoons (75 ml) of extra-virgin olive oil over medium heat.
Add the sliced red onions and a pinch of salt. Cook until soft and translucent, while stirring with a wooden spoon.
Add the crushed garlic and stir until fragrant but not brown.
Add the tomato passata or tomato pulp and cook for 10 minutes over medium flame.
Meanwhile, break the stale bread (or toasted bread) into bite size pieces.
After 10 minutes, add the bread pieces and 5 basil leaves to the pot. Turn the heat down, cover with a lid and cook for another 5 minutes over low flame.
Transfer the mixture into a food processor and blend until smooth. Alternatively, if you don't have a food processor, you can use an immersion blender.
Serve 2 ladles of soup in bowls and add ¼ of the cherry tomatoes in each bowl.
Add roughly shredded basil leaves and fresh oregano on top of each bowl.
Then generously drizzle some extra-virgin olive oil to serve.
Enjoy with a glass of Chianti Classico! 
Favorite Equipment
Nim Keys
Passata is an uncooked fresh tomato purée from Italy. Its texture is supple and its flavour very close to a fresh tomato. I recommend using homemade or good quality store-bought passata but any homemade tomato sauce will do, as well as good quality canned tomato pulp.
Author:

Ninon

Prep Time:

25

Cook Time:

15

Category:

Soup

Cuisine:

Italian

Diet:

Vegan
Keywords: summer soup, tomato soup, papa al pomodoro