This post may contain affiliate links of products that I use and know. I will earn a small commission if you purchase through those links, at no extra cost to you. Thank you for your support!
Some Tuscan freshness coming your way! Panzanella is a traditional seasonal, no waste salad from the beautiful Italian region of Tuscany. Toasted cubes of stale bread are soaked into the delicious juice of fragrant tomatoes, cucumber, onion and fresh herbs. The freshest and most aromatic salad to pair with tuscan wines such as Chianti Classico or Rosso di Montalcino.
A few details about the recipe
In this vibrant and fresh salad, extra ripe tomatoes play an important part but the real star is stale bread.

In Tuscan cuisine, no food is wasted. Stale bread gets a new glory, as it soaks into the intensely flavourful juice of tomatoes, cucumbers and fresh herbs.

Here, I have slightly twisted the traditional recipe by toasting stale bread for for crunch and adding Mozzarella di Bufala for extra creaminess!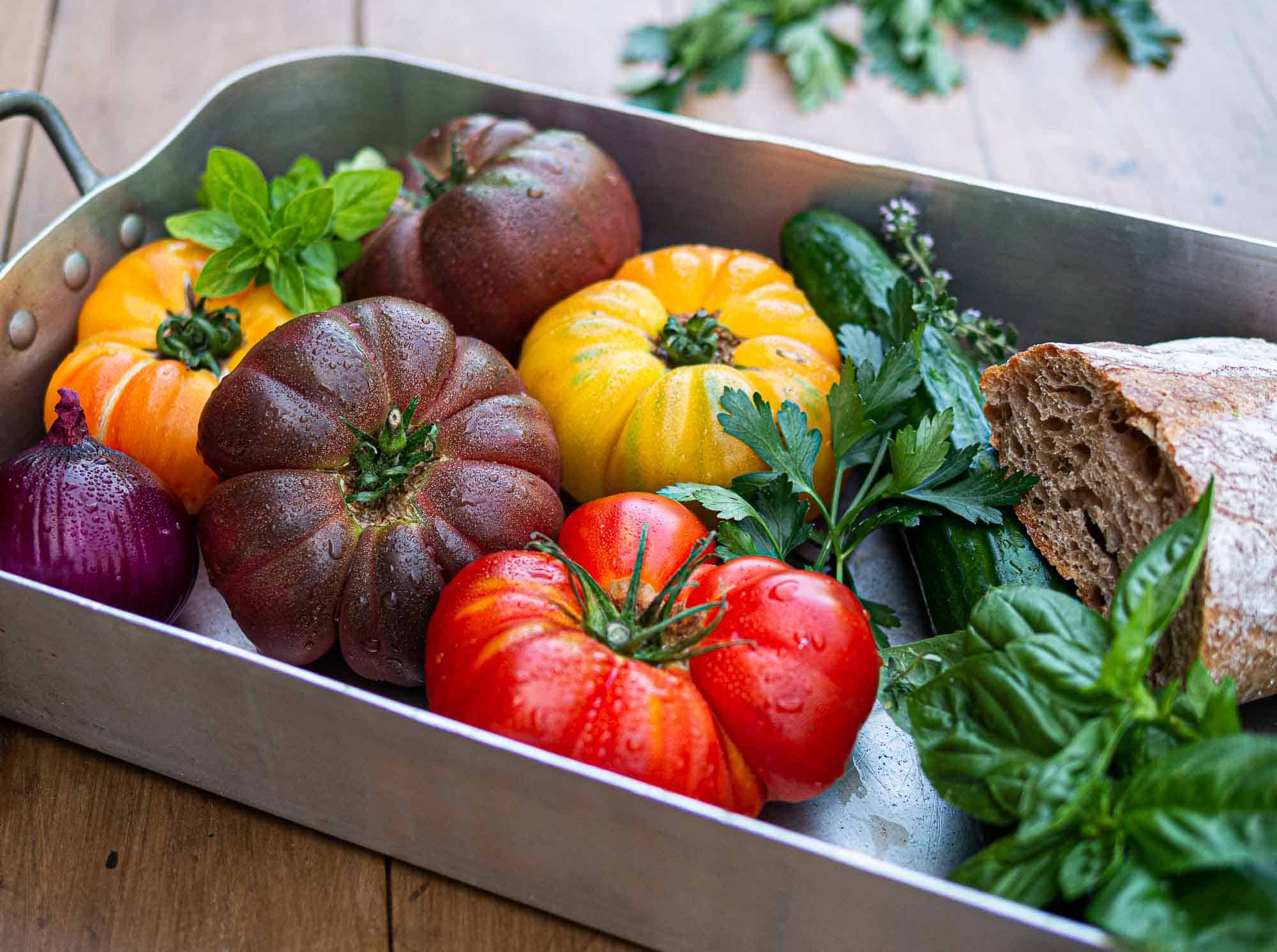 What to serve this with?
This tuscan summer salad is delicious as is for a light lunch. For a more substantial meal, I recommend serving this salad as a starter followed by Gnudi (Tuscan Spinach Ricotta Dumplings). It will for sure brings Tuscany to your table!
🍷Wine Pairing for Panzanella
The Match
Sangiovese!
Tuscan wines for Tuscan dishes! We recommend a fruity Sangiovese based wine. Sangiovese is the main local red grape variety red cherries, plums, and dried herbs such as oregano, lavender, thyme.
WINE APPELLATION SUGGESTIONS
Chianti Classico (Tuscany, Italy)
Rosso di Montalcino (Tuscany, Italy)
FREQUENTLY ASKED QUESTIONS
How long does this keep?
The Panzanella can be kept for up to 3 days in the fridge in an airtight container. I recommend removing the bread cubes from the leftover salad as they will get too soggy if kept in the salad.
I don't have fresh oregano on hand. Can I use dried oregano?
Sure can! Use two teaspoons of dried oregano instead of 4 tablespoons of fresh oregano.
Other delicious Italian inspired recipes
Recipe
Print
Panzanella (Tuscan Summer Salad) and Mozzarella
Total Time:

40 minutes

Yield:

6

1

x
35 ounces (1 kg) of ripe tomatoes (I love using different colors and varieties)
5 ounces (150 g) of stale bread (preferably sourdough) cut into 1 inch (2,5 cm) cubes
1 cup (250 g) of Mozzarella di Bufala, in "perline" form (small balls) or torn into bite size pieces
1 medium cucumber, cut into bite size pieces
½ red onion, very thinly sliced (a mandolin is a very useful tool to achieve paper thin slices)
¾ cup (15 g) of fresh basil leaves, roughly chopped
½ cup (10 g) of fresh flat leaves parsley, roughly chopped
4 tablespoons (9 g) of fresh oregano (alternatively, you can use 2 teaspoons of dried oregano)
3 tablespoons (45 ml) of extra-virgin olive oil
45 ml (3 tablespoons) of red wine vinegar
¼ teaspoon of sea salt
Instructions
Start by chopping the tomatoes into bite size chunks. Transfer them to a large mixing bowl.
Add the chopped cucumber, sliced onion and Mozzarella di Bufala pieces.
In a small ball, whisk together olive oil, red wine vinegar and a pinch of salt. Add the mixture to the salad and toss until well coated.
Add roughly chopped basil, flat leaves parsley and oregano and toss until well combined.
Reserve in the fridge until serving. The longer the Panzanella sits in the fridge, the longer aromas and flavours will infuse and develop.
10 minutes before serving, turn your oven on grill mode.
Place the stale bread cubes onto a baking tray and let it toast in the oven for 4-5 minutes or golden and crispy.
Add the toasted bread over top of the salad , and some additional fresh basil leaves (for flavour and presentation purposes.)
Serve immediately. (I recommend serving the salad in pasta bowls, and using a spoon to enjoy the delicious and fragrant tomato water!)
Enjoy with a glass of Rosso di Montalcino!
Favorite Equipment
Nim Keys
I like using a mandolin to slice up the onions very thinly. But a good and sharp kitchen knife works perfectly well too!
Adding the toasted bread cubes just before serving ensures that the bread remains crispy. It brings a variety of textures to the Panzanella. After a couple of minutes, the bread will soak in the delicious tomato water to create a delightful match.
Author:

Ninon

Prep Time:

40

Category:

Salad

Cuisine:

Italian

Diet:

Vegetarian
Keywords: panzanella, tomato salad, tuscan summer salad