This post may contain affiliate links of products that I use and know. I will earn a small commission if you purchase through those links, at no extra cost to you. Thank you for your support!
This Focaccia's version is from Puglia, Italy's beautiful stiletto! Cherry tomatoes, green olives and oregano create the ultimate match, ideal for summer apéros pour light lunch. What better match than the local star grape variety Primitivo (also called Zinfandel in the United States) to accompany the bursting and vibrant piece of sunshine?
A few details about the recipe
I discovered this delicious focaccia during a trip to Puglia, one of the southernmost regions of Italy. You know, this amazing region located in the stiletto of the Italian boots?! Locally called Focaccia Pugliese, it is bursting with flavors, simple to make and perfect for summer.
This focaccia is super moist and soft on the inside and crispy and golden on the outside.

Perfumed with loads of extra-virgin olive oil. Topped with ripe cherry tomatoes, aromatic and tender green olives, a pinch of dried oregano and green pepper. What could be more decadent and summer-y than that?
🍷Wine Pairing for Cherry Tomato and Green Olive Focaccia (Focaccia Pugliese)
The Match
Primitivo / Zinfandel !
Primitivo is one of the leading grape varieties in Puglia. It is also widely planted in California where it is called Zinfandel.
Typically full bodied, Primitivo/Zinfandel based wines are packed with jammy berry fruits and plummy fruits. Soft textured and concentrated, good Primitivo wines have medium tannins and acidity and will compliment the fruitiness and tanginess of this delicious Focaccia Pugliese.
WINE APPELLATION SUGGESTIONS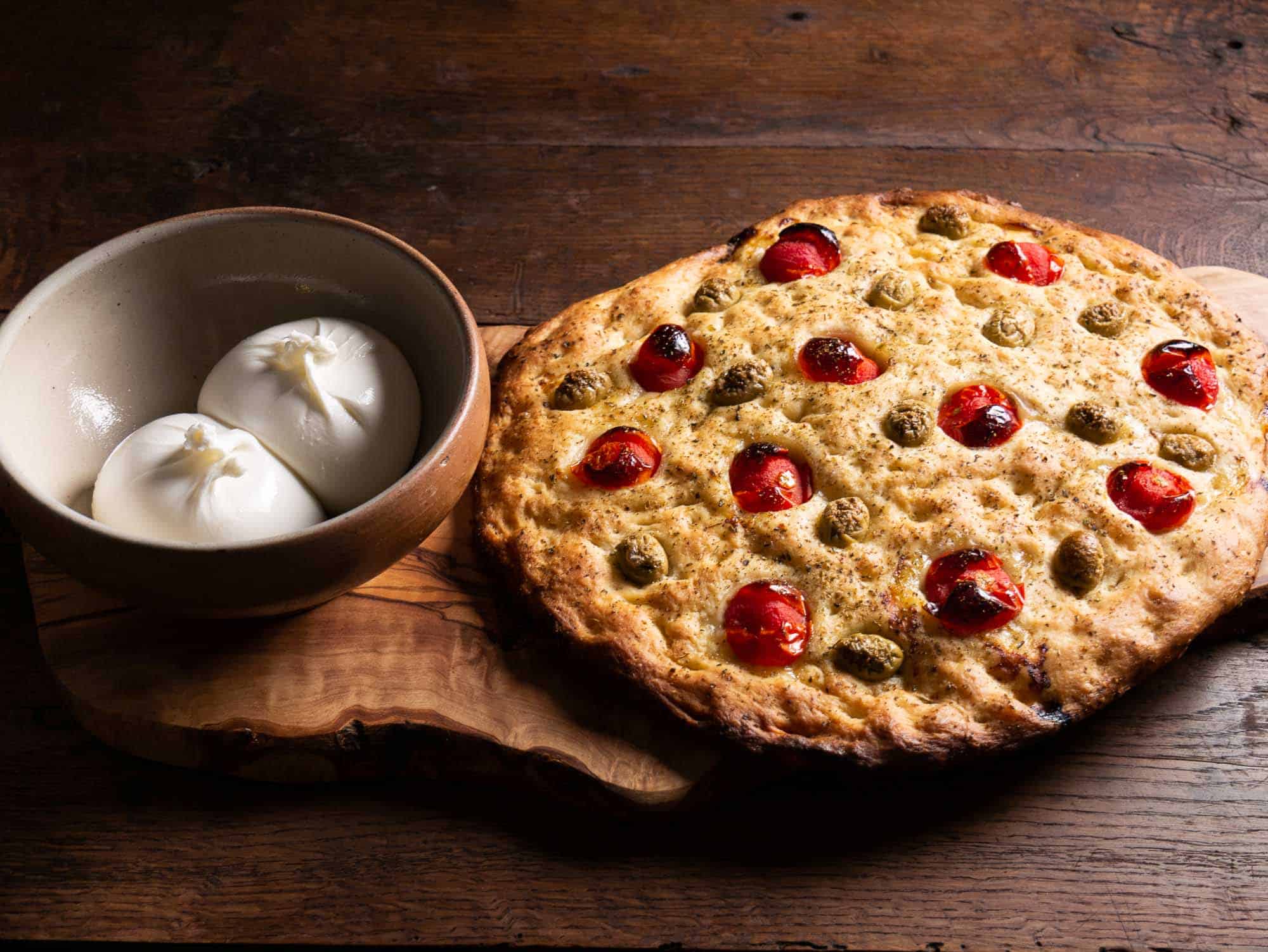 Other delicious Summer Recipes
Recipe
Print
Cherry Tomato & Green Olive Focaccia
Total Time:

1H30

Yield:

4

1

x
For the focaccia dough
1 cup (220 ml) of lukewarm water
2 and ¼ teaspoons (7 g) of instant yeast
1 teaspoon (5 g) of sugar
2 and ½ cups (300 g) of all-purpose flour
1 teaspoon (5 g) of salt
1 tablespoons (15 ml) of extra-virgin olive oil
For the topping
¾ cup (150 g) of cherry tomatoes
¼ cup (50 g) of green olives
1 teaspoon of dried oregano, to sprinkle on top
⅛ teaspoon of green pepper, to sprinkle on top
Instructions
Start by activating the yeast: add the instant yeast and the sugar into the lukewarm water and wait 3 minutes.
Prepare the dough by mixing the flour, salt, extra-virgin olive oil and the yeast preparation into a large mixing bowl (or in a KitchenAid bowl if you have one).
Knead for 5 minutes until the dough is more elastic and sticks to your fingers.
Place a damp cloth or a clinging film overtop of the mixing bowl and let the dough rest for 30 minutes or until it has doubled in size.
Once the dough has risen, remove the air from the dough by pressing down using your fist and hand. This action of removing air from the dough is called "dégazage" (literally removing gas) and helps the dough rise once in the oven.
Line a baking tray with parchment paper. Spread a generous amount of extra-virgin olive oil onto the tray. Place the dough on the tray and using your fingers, spread the dough in a 30 cm large circle. You can apply olive oil on your hands to prevent the dough from sticking while spreading it.
Let the dough rise for another 30 minutes.
Generously drizzle the risen dough with olive oil. Then using your fingertips in a claw shape, poke some half holes into the dough. The surface of your focaccia dough must be uneven with lots of small holes in which olive oil puddles can form.
Add the cherry tomatoes, green olives on top of the focaccia dough by pressing gently.
Sprinkle some oregano and some green pepper on top.
Bake for 20 minutes in a preheated oven in static mode at 430°F (220°C) or until golden. Enjoy!
Favorite Equipment
Nim Keys
Activating the yeast, whether dried or fresh is an important step for most bread recipes. The yeast will feed on the sugar and help the dough rise and develop nicely.  
The "dégazage" technique, which consists in removing air after the first rise of the dough is very important to make sure your Focaccia is risen and golden.
You can either enjoy this Focaccia Pugliese as an appetizer or serve it warm with a creamy Burrata cheese and arugula salad on the side for a light lunch!
Author:

Ninon

Prep Time:

10

Cook Time:

20

Category:

Appetizer

Method:

Oven Baked

Cuisine:

Italian

Diet:

Vegan
Keywords: focaccia pugliese, green olives and cherry tomato focaccia, vegan focaccia