This post may contain affiliate links of products that I use and know. I will earn a small commission if you purchase through those links, at no extra cost to you. Thank you for your support!
I created this recipe with memories of flavors that I love. For years now, I've been a big fan of seasoned roasted oyster mushrooms. They are crispy on the outside but remain juicy on the inside. In this recipe, the umami-rich roasted oyster mushrooms are spiced up by smoked paprika, creating a "meatiness" sensation. Combined with the saltiness of Feta cheese, the tanginess of the lemon zest, and the freshness of the coriander, this promises to light up your tastebuds! After many attempts, here is the final result. This flavourful dip will pair beautifully with a dry German Riesling (look for Trocken (German for Dry) on the label!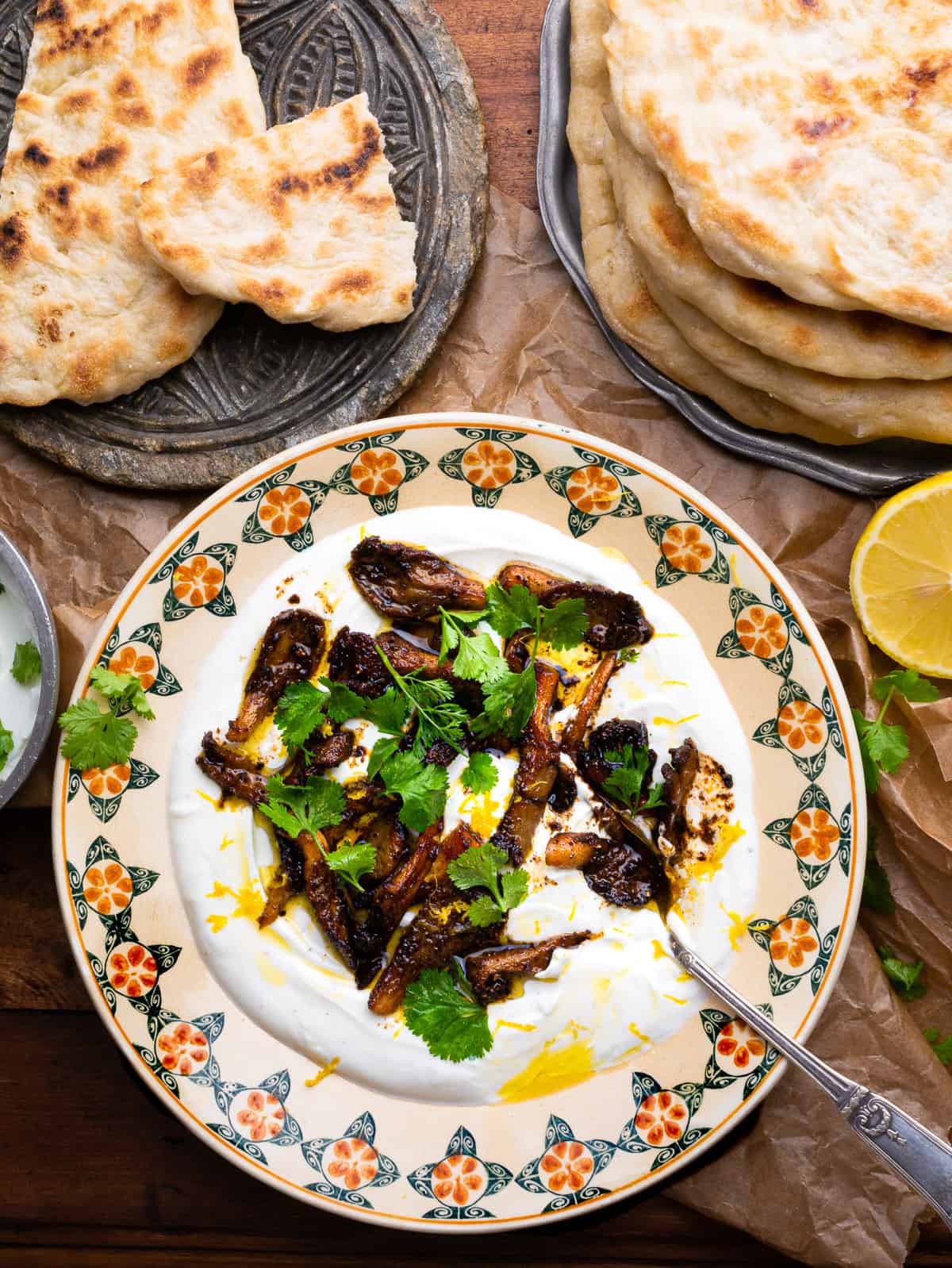 A few details on the ingredients
Oyster mushrooms are great for roasting and frying. They crispen on the outside while retaining moisture on the inside. The result is juicy, almost meat-like. I recommend using oyster mushrooms for the best results but other kinds of mushrooms such as white button mushrooms will work too.
Sheep's yogurt. Using sheep's yogurt will create a creamier, firmer texture while cow's yogurt will end up in a runnier dip. I recommend using sheep's yogurt for the best texture and flavor. Traditional Greek yogurt is made with sheep's milk, which is a great option. Be aware, however, that most Greek yogurts sold in supermarkets are made with cow's milk these days. Make sure to check the label for 100% sheep's milk.
The spice mix is inspired by North African "Chermoula", a spicy oil mix used to brush vegetables, fish, or meat before cooking. I selected the spices, namely cumin, coriander powder, smoked paprika, and green pepper, to pair with the tanginess of the feta dip without overpowering it. The spice mix coats the mushrooms "shawarma-style": a hit with the vibrant whipped feta dip!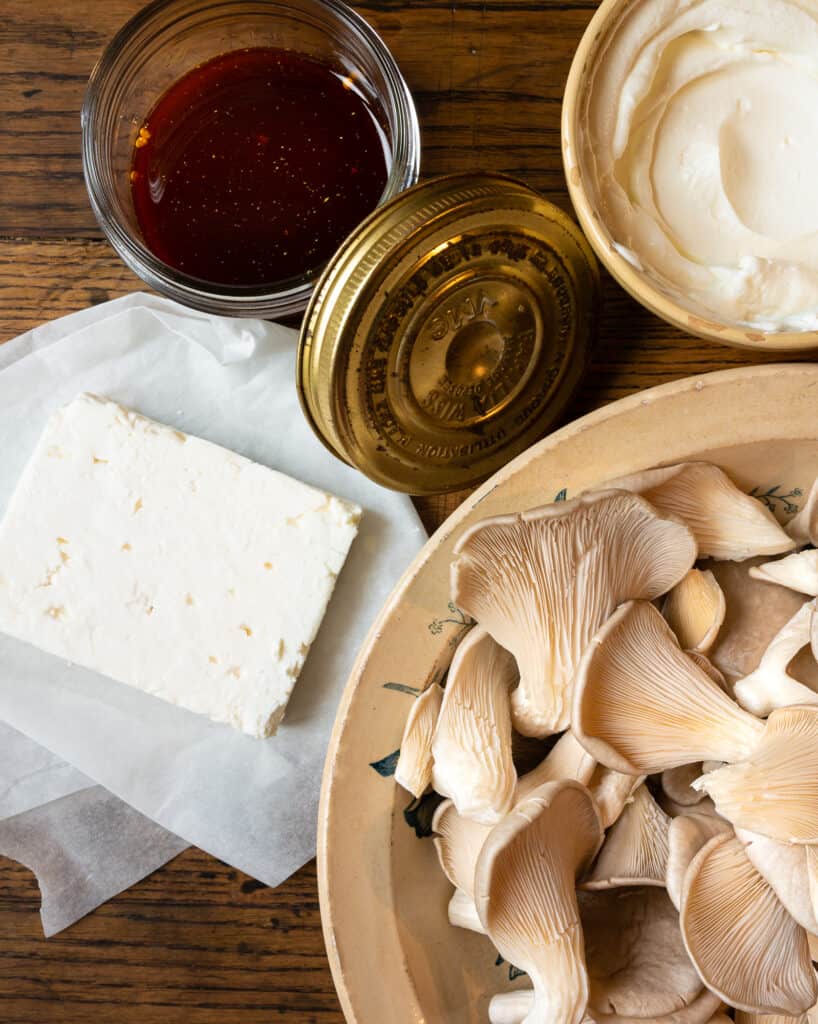 What to serve this with?
These Fluffy Skillet Flatbreads are perfect to dip into this Spicy Roasted Mushrooms and Feta Dip. For a mezze-style apéro, you can serve it along with this Turmeric Flavoured Baba Ganoush With Crumbled Feta Cheese and Sumac.
🍷Wine Pairing for Spicy Roasted Mushrooms and Feta Dip
The Match
Riesling
Due to Riesling's fruitiness and acidity, it makes the perfect accompaniment to spices like cumin or coriander. Cutting through the tanginess of Feta cheese and lemon zest, it is the wine of choice for this recipe.
WINE APPELLATION SUGGESTIONS
Trocken Riesling from Mosel or Rheingau, Germany
Dry Riesling from Alsace, France
Dry Riesling from Clare Valley or Eden Valley, Australia
FREQUENTLY ASKED QUESTIONS
How long does this keep?
The spicy roasted mushrooms and whipped feta dip can be kept for up to 3 days in the fridge in an airtight container. Just take it out of the fridge for 30 minutes before enjoying it.
Can it be frozen?
No, I do not recommend freezing this dish.
I don't like feta. What can I substitute this with?
For a milder taste and even creamier texture, you can replace feta with creamy burrata. Delicious too!
Other delicious Snack recipes
Recipe
Print
Spicy Roasted Mushrooms And Feta Dip
Spicy crispy oyster mushrooms and whipped Feta Dip. Full of flavors, tang, spiciness, and creaminess. This flavourful dip will pair beautifully with a dry German Riesling (look for Trocken (German for Dry) on the label!
Total Time:

30 minutes

Yield:

4

1

x
For the whipped Feta dip
7 ounces (200 g) of sheep's milk Feta cheese
¾ cup (200 g ) of Greek yogurt
1 tablespoon (15 ml) of extra-virgin olive oil
¼ teaspoon of green pepper
For the spicy roasted mushrooms
4 cups (300 g) of fresh oyster mushrooms (chestnut mushrooms, white button mushrooms, or portobello mushrooms work very well too), cut into 1.2 inches (3 cm) pieces
¼ cup (55 ml) extra-virgin olive oil
1 garlic clove, crushed
2 teaspoons (5 g) of cumin powder
2 teaspoons (5 g) of coriander powder
2 teaspoons (5 g) of smoked paprika
¼ teaspoon of green pepper
¼ teaspoon of sea salt
For the garnish
a generous handful of freshly chopped coriander, to sprinkle on top
the zest of one lemon, to sprinkle on top
extra-virgin olive oil, to drizzle on top
Instructions
 In a food processor (or using the chopper bowl of an immersion blender), add the Greek yogurt, feta cheese, one tablespoon of extra-virgin olive oil, and ¼ teaspoon of freshly cracked green pepper. Blend for 1 minute, until smooth and creamy. Transfer the whipped feta dip to a bowl and store it in the fridge, in an airtight container, for at least one hour (the longer, the better). It will allow for the texture to harden. 
Meanwhile, in a bowl, mix together extra-virgin olive oil, crushed garlic, smoked paprika, cumin powder, coriander powder, green pepper, and sea salt. The oil and spice mix is ready!
Cut the mushrooms into 1.2 inches (3cm) pieces.
Heat a large pan over medium-high heat. Add the mushrooms along with the oil and spice mix and fry until golden, about 10 minutes. Stir regularly to cook the mushrooms evenly.
To assemble the dip: in a shallow bowl, layer the whipped feta dip (making swirly waves with the back of a spoon). Sprinkle the roasted spicy mushrooms and don't forget to drizzle the cooking oil for extra flavor!
Sprinkle the zest of one lemon and a generous handful o fresh coriander on top.
Finish with a drizzle of extra-virgin olive oil. Enjoy with pita bread, flatbreads, or toasted slices of sourdough bread and a chilled glass of dry (Trocken) German Riesling!
Favorite Equipment
Nim Keys
The mushrooms need to be cooked over high flame for about 10 minutes to become crispy and "meaty". They will release water, this is normal. Keep frying until the water has evaporated and the mushrooms are golden and crispy. Being patient with the mushrooms will ensure extra umami flavors as well as a depth of texture and taste.
I recommend making the Feta dip in advance and storing it in the fridge in an airtight container for at least one hour (up to the day before). The longer the dip sits in the fridge, the creamier the texture. Just straight out of the blender, the texture will be a bit liquid, this is normal. Storing it in the fridge will help harden it.
Author:

Ninon Michels

Prep Time:

20

Cook Time:

10

Category:

Appetizer, Snack

Method:

Food Processor

Cuisine:

Mediterranean

Diet:

Vegetarian
Nutrition
Serving Size:
Calories:

402

Sugar:

5.4 g

Sodium:

638.1 mg

Fat:

35 g

Carbohydrates:

11.2 g

Protein:

15.2 g

Cholesterol:

51.1 mg
Keywords: whipped feta dip, spicy roasted mushrooms, oyster mushrooms