This post may contain affiliate links of products that I use and know. I will earn a small commission if you purchase through those links, at no extra cost to you. Thank you for your support!
Extra smooth and creamy Baba Ganoush made with "burnt" eggplant, greek yogurt, and tahini. I flavored it with turmeric for an extra kick and topped it with Feta cheese, parsley, and sumac. This is the perfect appetizer for Assyrtiko wines, one of Greece's most beautiful treasures.
A few details about the recipe
Baba Ganoush is a delicious eggplant spread, found in the cuisine of many Middle Eastern countries. This recipe has tons of variations and is the object of many debates among aficionados! With or without tahini? With or without yogurt? No one really agrees.

I personally love when Baba Ganoush is extra smooth and creamy. This is why I added both tahini and Greek sheep yogurt to this recipe!
The addition of turmeric powder is what brings this recipe to another level. It creates this balanced and flavourful spread of goodness. I love topping it with feta cheese and optional sumac for an extra kick!

When creating and testing this recipe, I immediately knew I had to pair it with an Assyrtiko wine. This Greek grape variety produces crisp wines with ripe citrus aromas.

Their freshness and vibrant flavors will cut through the creaminess of eggplant and tahini while complementing feta cheese, garlic, sumac, and lemon juice.

This recipe and wine pairing definitely wander off the beaten track, a must-try for maverick palates!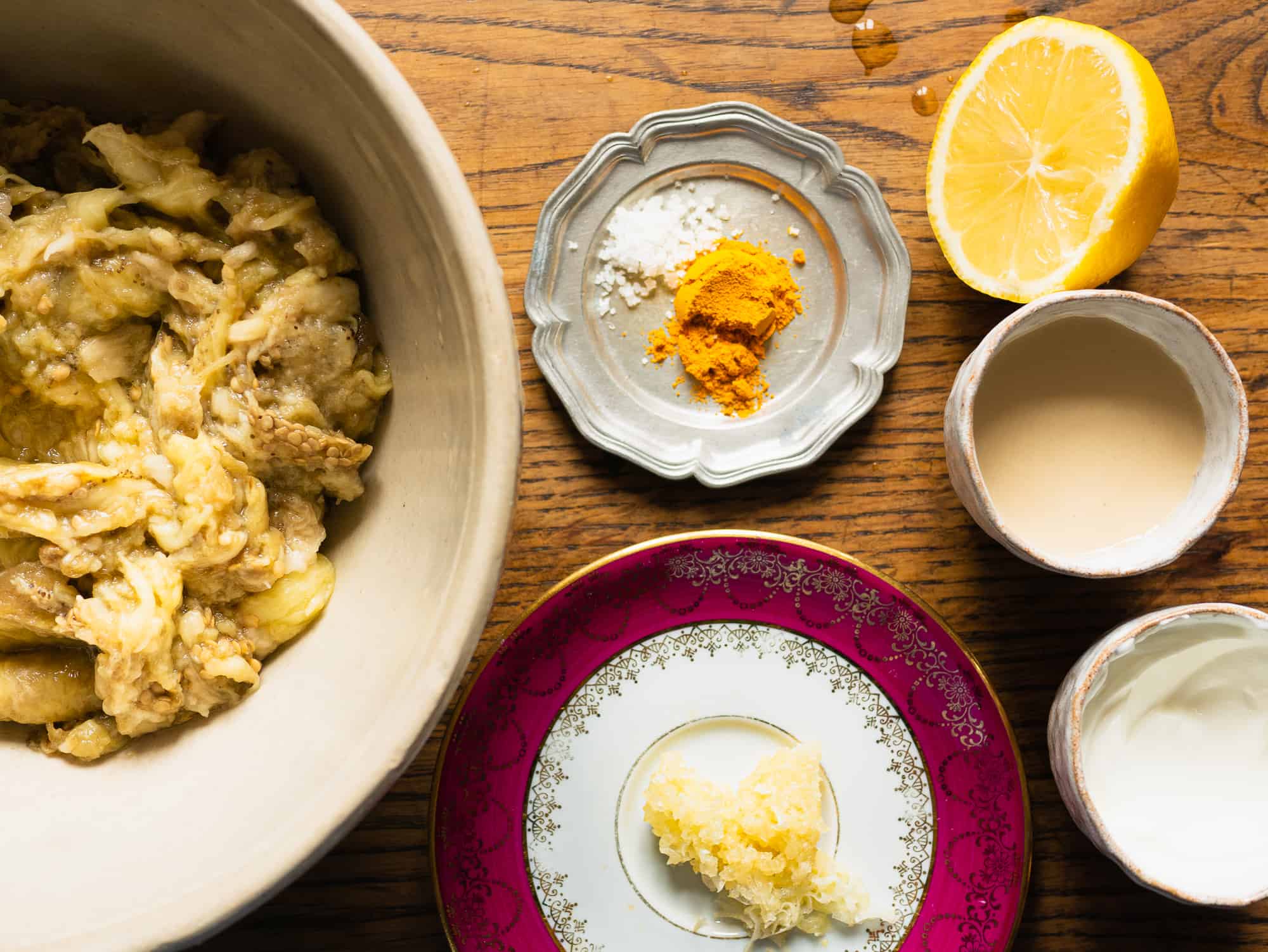 What to serve this with?
These Fluffy Skillet Flatbreads are delicious dipped into Turmeric Baba Ganoush with Feta and Sumac. For a middle-eastern "mezze" style dinner, you can serve it alongside this Roasted Lemon Hummus With Spicy Herb Oil.
🍷Wine Pairing for Turmeric Baba Ganoush With Feta and Sumac
The Match
Assyrtiko!
This beautiful Greek grape variety is known for producing vibrant light-bodied white wines with aromas of ripe citrus, stone fruits, and a distinctive salinity.
Assyrtiko wines are a great match for this Turmeric Flavoured Baba Ganoush as they will cut through the creaminess of eggplant and tahini while complementing feta cheese, garlic, sumac, and lemon juice thanks to their acidity and vibrant flavors.
WINE APPELLATION SUGGESTIONS
Assyrtiko from Santorini PDO, Aegean Islands, Greece
Assyrtiko from Aegean PGI, Aegean Islands, Greece
FREQUENTLY ASKED QUESTIONS
Can I make it in advance?
Yes! The Baba Ganoush can be made the day before and stored in an airtight container until it is ready to be served. Then, just drizzle some extra-virgin olive oil, and sprinkle crumbled Feta cheese, sumac, and parsley on top.
How long does this keep?
The Turmeric Baba Ganoush can be kept for up to 3 days in the fridge in an airtight container.
Can I make this recipe vegan?
Sure! Use a plant-based unflavoured Greek yogurt and skip the Feta cheese altogether (or use a vegan Feta cheese if you can get your hands on it)!
Other delicious Appetizer & Snack recipes
Recipe
Print
Turmeric Baba Ganoush With Feta and Sumac
Total Time:

1 hour 10 minutes

Yield:

4

1

x
For the Baba Ganoush
4 medium eggplants
1 clove of garlic, crushed
½ cup (100 g) of creamy tahini
¼ cup (75 g) of full-fat Greek yogurt
the juice of half a lemon (about 2 tablespoons)
1 and ½ teaspoons of turmeric powder
½ teaspoon of sea salt
For the garnish
⅓ cup (50 g) of Feta cheese, crumbled
2 tablespoons (8 g) of flat leave parsley, thinly chopped
2 teaspoons (10 ml) of extra-virgin olive oil, to serve
¼ teaspoons of sumac, to sprinkle on top
Instructions
Turn the oven on to broil. 
Poke the eggplants in several places with the tip of a knife, about 0.3- 0.7 inches (1- 2 cm) deep.
Broil the eggplants for 50 min, turning them every 15 minutes. Keep broiling until the eggplants burst, collapse, and soften. That's the best way to roast them!
Remove the eggplants from the oven and let them cool down a little. When the eggplants are cooled enough that they can be manipulated, peel them, remove the stem, and discard the black skins. Transfer the eggplant to a colander or fine mesh strainer and let it drain for 30 minutes. You can gently stir from time to time to help speed-up the draining process.
Place the drained eggplants into a food processor, along with the crushed garlic, tahini, greek yogurt, turmeric powder, and salt. Mix for 5 minutes, until super smooth. Alternatively, you can place everything in a bowl and mix using an immersion blender.
To serve, transfer the Turmeric Flavoured Baba Ganoush to a shallow bowl. Using the back of a spoon, create some swirls and crevices. Then, drizzle extra-virgin olive oil, roughly chopped flat leave parsley, and a pinch of sumac.
Enjoy with a glass of chilled Assyrtiko wine!
Favorite Equipment
Nim Keys
Broiling the eggplants can be intimidating but this is what gives the Baba Ganoush the concentrated, extra-depth of flavors. Don't be scared about the bursting and broil away!

Draining the extra water from the broiled eggplants ensures that the Baba Ganoush does not become soggy. Try not to skip this step to get the creamiest spread. 

If you do not have a food processor or a hand mixer, you can mash the eggplants and the other ingredients with a fork until well combined. The result will obviously be less smooth but delicious too (this is the way traditional Baba Ganoush is made in the Middle East).

This recipe can be made plant-based by skipping the Greek yogurt altogether (or replacing it with a plant-based yogurt). I like adding it because it really makes the texture extra-creamy but this is optional.
Author:

Ninon

Prep Time:

20

Cook Time:

50

Category:

Appetizer

Cuisine:

Middle-Eastern

Diet:

Vegetarian
Nutrition
Serving Size:
Calories:

288

Sugar:

5.7 g

Sodium:

430.5 mg

Fat:

22.2 g

Carbohydrates:

17.9 g

Protein:

9.9 g

Cholesterol:

13.4 mg
Keywords: turmeric baba ganoush, feta cheese, mezze